Big Bend River Tours

and Lajitas Stables
The Tex Combo Trip
2, 3, or 4 days horseback riding/ river running combination
This itinerary is intended as an example only. Your trip may vary somewhat depending on weather and river conditions, your guide and your group's interests. Itineraries may be subject to change, please call our office for additional information.
Day One: The adventure begins at Lajitas Stables.   After an 8 A.M. check-in at the stables and a brief riding lesson, you'll follow your wrangler for the day on a trail that traverses desert and mountains, stopping for a sumptuous lunch.  After lunch, you'll mount up and head out for the ride to your evening campsite where your wrangler will rustle you up a fantastic cowboy dinner while you watch the sun sink below the mountains.  The night sky offers up the brightest stars in Texas for you to enjoy and the subtle sound of the Rio Grande lulls you to sleep.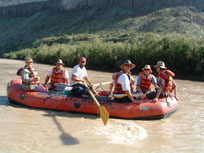 Day Two: After returning to Lajitas Stables you will have time to change from your riding boots & britches to your shorts & sandals. Your guide from Big Bend River Tours will meet you at the Stables to start your second half of your day-long adventure.  Depending on water levels your trip may be done in canoes or rafts.
Water is always magical in the desert.  As you gently glide along shores lined with Giant Cane, Mesquite, Palo Verde and Salt Cedars your guide will point out some interesting desert plants, unusual geologic formations and can also answer any questions you may have.  Along the way you may pass through Dark Canyon. The cliffs here are literally a hanging garden of cacti and wildflowers.  Their blooms splash brilliant colors across its dark walls. This lush riparian area is prime habitat for the 400 plus species of birds found in the Big Bend.  Keep a close look out for the Vermillion Flycatcher, Painted and Varied Buntings and Summer Tanager to name a few.   After loading gear and canoes or rafts we head back to the Stables thus ends your adventure for the day.
Those who prefer a canyon river trip can add a day or two and experience the majesty of Santa Elena Canyon with its 1500 foot canyon walls. Please check out our overnight and multiday intinaries. 
PRICE: For prices see our price list.

This is a sample itinerary that may be adapted to suit your group's preferences: add hiking, bird watching, exploration time, geological tours, and additional days on the river….. And THANK YOU for choosing Big Bend River Tours as your river outfitter!
For an overnight packing list, click here!

If you enjoy your trip, gratuities for your guide are always appreciated.