2 or 3 Day Temple Canyon
This itinerary is intended as an example only. Your trip may vary somewhat depending on weather and river conditions, your guide and your group's interests. Itineraries may be subject to change, please call our office for additional information.
This overnight, or multiday river trip leaves our office in Terlingua and takes you for a scenic ride through Big Bend National Park to Stillwells Store, home of "HALLIES HALL OF FAME" museum.  There will be a stop here to purchase cokes and snacks or to use your last "flush" toilet for your trip.  We can also meet you at Stillwells Store if you are staying at the Gage Hotel in Marathon or camping in Big Bend National Park.  You will be returned to your vehicle at the end of your trip.
The WILD AND SCENIC  section of the river that starts your adventure begins at the river at the Heath Canyon Ranch put in, across the river from the old abandoned Mexican village of La Linda where Dupont once mined fluorspar.  Years ago La Linda was home to many miners and their families, but now the white buildings and the small chapel sit silent and empty.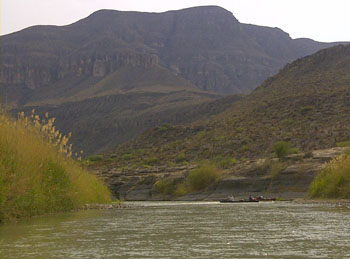 Boarding your canoe or raft you find yourself afloat on gentle waters  that take you around the bend and out of sight of all civilization.  Several small canyons including Heath, Horse Canyon, Temple and Maravillas Canyon are included in this adventure.  Sightings of Peregrine Falcons, Golden Eagles, Zone-tailed Hawks, White-throated Swifts, Hutton's Vireos and Pyrrhuloxia may punctuate the day along with the scenic splendor of the canyon walls. Your trip pace will be very leisurely, allowing time for exploration of the many side canyons. 
Eleven miles downstream we come to the takeout point at Camp 6 in the Black Gap Wildlife Management  area  where  we  will  load  up  and  head  back  to  our  office in Terlingua in time for you to enjoy the Big Bend night life at the local watering holes.
Also a great trip to do in canoes. Please inform us if you would prefer to do this trip in canoes as there are few rapids.......... making this perfect for novice paddlers.
PRICE: For prices see our price list.

Note:  We provide waterproof bags for all your personal items. If you do not have a sleeping bag, sleeping pad or tent, you can rent them from us for $10 each plus tax per trip. All your meals are included, from lunch on the first day, all meals in between and ending with lunch on the last day. Our exquisite dinners can include steak, lasagna, fajitas, salmon and enchiladas, and always includes wine and a dazzling dessert consisting of cheesecake, freshly made dutch oven cakes or cobblers. Sit back and gaze at the amazing scenery around you while your guides do the work. Then, brightly shining, the stars come out, leaving you to gaze at the brightest stars in Texas in awe.
For an overnight packing list, click here!

                                    If you enjoy your trip, tips for your guide are always appreciated.