River Tours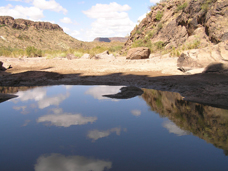 Big Bend River Tours offers a wide variety of river trips down the Rio Grande. Covering over 250 miles, the river travels through many canyons of indescribable beauty and tranquility. The Rio Grande has something for everyone.
Our river guides are experienced and personable. They delight in sharing the area history, tales of the ancient dwellers, geology, flora, and fauna of the area. They enjoy sharing the special places of the Big Bend and they'll surely surprise you with the delicious river cuisine.
Our rafting trips require no skill from you as the guides do all the rowing. We offer a variety of river trips from 1/2 days to 21 days on the river. We provide all shuttling to and from the river, all equipment and gear (excluding your personal sleeping bag, pad and tent), and food that will delight your taste buds. Every canyon offers up its own "personality" from the dramatic beauty of Santa Elena, the intimate splendor of Mariscal to the peace and solitude of the majestic Boquillas Canyon.
Colorado Canyon
Hot Springs Canyon
Santa Elena Canyon
Mariscal Canyon
Colorado Canyon through Santa Elena Canyon
Mariscal Canyon through Boquillas Canyon
Boquillas Canyon
Temple Canyon