Boquillas Canyon
This itinerary is intended as an example only. Your trip may vary somewhat depending on weather and river conditions, your guide and your group's interests. Itineraries may be subject to change, please call our office for additional information.
The Rio Grande on the eastern side of Big Bend National Park cuts through the Sierra del Carmen Mountains of Mexico, creating beautiful Boquillas Canyon. Picturesque rock formations, very gentle rapids, and steep canyon vistas rising as high as 2,600 feet make this trip a peaceful journey that you will long remember. Wide varieties of plants and animals fill the magnificent side canyons, which provide hiking opportunities along this remote 33-mile stretch of river. Watch for the endangered peregrine falcons flying high above the canyon walls.
This is a sample itinerary of the three day Boquillas Canyon trip.
Day Before Trip: If you arrive during business hours, pick up your waterproof gear bags at our office on FM 170 in Terlingua. If not, come early to pack and we'll have them waiting for you when you check in for your trip.

Day One: Check in at our office at 8:00 AM and pack your overnight things into the large waterproof bags We will bring waterproof camera boxes and smaller bags for items you will need to use during the day. At 8:30 AM, your guide will take you by van to the put-in point for Boquillas Canyon near Rio Grande Village. After loading the boats with gear you'll start your adventure, floating past a natural hot spring near the small village of Boquillas, Mexico and on to the entrance of the canyon just around the bend. As we enter the canyon, a huge sand dune appears on the Texas side. This is a great time to stop and hike to the top of the dune or just frolic on one of the world's largest sand piles. After a refreshing lunch, we will float into the canyon surrounded by steep, sheer cliff walls. In the late afternoon, your guide will find a suitable campsite near a side canyon that offers great hiking. While your guide sets up camp and prepares dinner, you'll have time to go exploring the canyon on foot. Later, after a delicious meal, relax around the campfire and spend some time star gazing before bed. You may sleep outside under the stars or inside one of your tents.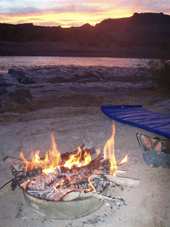 Day Two: Awaken to the sounds of canyon wrens and other birds singing in the canyon. The smell of coffee and breakfast cooking will encourage you to get ready for today's adventure. After breakfast, we'll break camp and load the boats to continue floating through the canyon. Highlights of the day will include passing through some of the deepest points in the canyon with surrealistically eroded canyon walls. Lunch will be served along the way, before passing an unusual formation called Rabbit Ears and exploring an exquisite side canyon nearby. Your guide will locate the evening's campsite and direct you to areas for exploration. As your guide prepares another incredible dinner, you may want to relax around camp or enjoy a refreshing soak in the Rio Grande. Later in the evening, watch the spectacular parade of stars across the narrow ribbon of sky that is visible from inside the canyon, or watch the canyon walls light up as the moon peaks over the rim..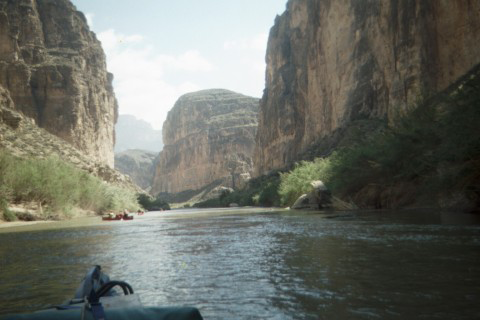 Day Three: Your guide will prepare another hearty breakfast to get you ready for the last day of the trip. After loading the boats , we will drift out of the canyon. As you look back, you will see spectacular views of El Pico, the highest point of the Sierra del Carmen Mountains, rising to a spectacular 7000 feet.. As the river winds its way to the take-out point at La Linda and we come to more open terrain, you'll see beautiful vistas and enjoy the scenic view of the Chisos Mountains. About mid-day, we will pass by the historic Adams Ranch, where we often stop for lunch under the shade of a giant old mesquite tree. After a few small fun rapids, we approach the old mining area of La Linda, where our shuttle vehicle waits to pick us up. The return trip to Terlingua through Big Bend National Park takes you past the Chisos Mountains and park headquarters at Panther Junction. You'll arrive back in Terlingua in time for dinner and a relaxing evening.
Four days or more in Boquillas Canyon allows you more time for relaxing and enjoying the many pleasures Boquillas has to offer. This may additional hiking, a more relaxed pace, or a lay over day where you spend the day exploring.
Also a great trip to do in canoes. Please inform us if you would prefer to do this trip in canoes as there are few rapids.......... making this perfect for novice paddlers.
PRICE: For prices see our price list.

Note:  We provide waterproof bags for all your personal items. If you do not have a sleeping bag, sleeping pad or tent, you can rent them from us for $10 each plus tax per trip. All your meals are included, from lunch on the first day, all meals in between and ending with lunch on the last day. Our exquisite dinners can include steak, lasagna, fajitas or enchiladas and always includes wine and a dazzling dessert consisting of cheesecake, freshly made dutch oven cakes or cobblers. Sit back and gaze at the amazing scenery around you while your guides do the work. Then, brightly shining, the stars come out, leaving you to gaze at the brightest stars in Texas in awe.
For an overnight packing list, click here!
For prices on this trip or any of our other ones, please look at the Price List.
                                    If you enjoy your trip, tips for your guide are always appreciated.