Half Day River Trip
This itinerary is intended as an example only. Your trip may vary somewhat depending on weather and river conditions, your guide and your group's interests. Itineraries may be subject to change, please call our office for additional information.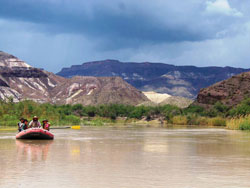 Novice river runners, families with small children, and 80-year old youngsters will enjoy the rugged, peaceful beauty of Big Bend Ranch State Park on this mild half day float. The surrounding mountains with colorful layers of volcanic ash called Tuff, offer up a stark contrast to the dark lava and basalt formations on the banks of the river. As you gently float down the river, your guide will show you interesting desert plants and point out unusual geologic formations, then serve you a light snack on this quiet section of the Rio Grande. This trip is offered twice a day, 8:30 AM to 12:30 PM and 1:30 PM to 5:30 PM. During Summer months this trip is offered once a day from 9:00 AM to 1:00 PM.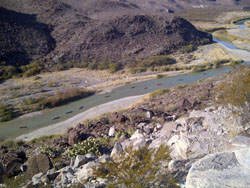 During low water, this trip will be done in canoes. For more information please contact our office at 1-800-545-4240.
LENGTH: 4 hours
PRICE: For prices see our price list.

Note:  Your trip fee includes guides, boats, life vests, a snack, drinking water, shuttles to and from the river, and all miscellaneous river gear.  You are welcome to bring beer, or other canned beverages in a small cooler. 
If you enjoy your trip, gratuities for your guide are always appreciated.