Hot Springs Canyon
This itinerary is intended as an example only. Your trip may vary somewhat depending on weather and river conditions, your guide and your group's interests. Itineraries may be subject to change, please call our office for additional information.
This gentle all day river trip is appropriate for all ages and all levels of experience.
If the water is adequate the trip will be done in rafts….if the water is low, the trip will be done in canoes. We leave our office in Terlingua at 8:00 A.M and travel to River Road East in the National Park to the put in at Gravel Pit.
Our river journey will pass through small scenic canyons on water that is calm with easy paddling and no rapids. The current carries our boats gently down the river.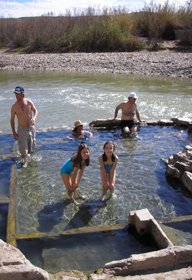 Stops along the way reveal hidden hot springs coming from the riverbank. Bird life is everywhere. Views of the magnificent Sierra del Carmens in Mexico come into view as you float down the river.

Arrive at the Hot Springs area around midday to enjoy a leisurely lunch by the river. After lunch, your guide leads you on a short hike to the ruins of the old post office that was run by Maggie Smith until 1950 and was a social gathering spot for Americans and Mexicans alike.

View the ruins of the Hot Springs Motel and see the Indian pictographs and petroglyphs on the craggy cliffs. Then it's on to the hot springs for a good long soak. The waters of the hot springs were considered a cure all for many ailments in the early 1900's. People came from as far away as New York to "take the waters".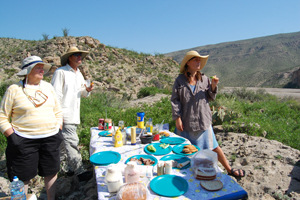 After lunch you'll re-board your boat for the relaxing trip to the take out at Rio Grande village where, time permitting, you can get out your binoculars and add a few birds to your life list before boarding our vans for the ride back to Terlingua.
Note:  Your trip fee includes guides, boats, life vests, lunch, drinking water, shuttles to and from the river, and all miscellaneous river gear.  You are welcome to bring sodas, beer, or other canned beverages in a small cooler. 
PRICE: For prices see our price list.
Day Trips:
On all one day trips lunch is served with selections of deli meats, chips and dips, crackers and cookies, fruit, etc. For those who have special dietary needs, preferences, etc. arrangements can be offered to accommodate you. We provide a small waterproof bag to keep personal items including cameras, video cameras, etc.

Check us out on the Today Show, click here.
If you enjoy your trip, gratuities for your guide are always appreciated.