Colorado Canyon
This itinerary is intended as an example only. Your trip may vary somewhat depending on weather and river conditions, your guide and your group's interests. Itineraries may be subject to change, please call our office for additional information.
Part of the Big Bend Ranch State Park, Colorado Canyon offers a unique rafting trip through the only volcanic rock canyon in the Big Bend region.  Your trip will begin from our office on Hwy 170, with a ride in our shuttle vehicle along the River Road (Camino Del Rio).  This drive has been rated as one of the most scenic drives in the country.  Along the way, we will traverse "Big Hill," where the spectacular panorama of the river and the mountains in Texas and Mexico will take your breath away.  From atop Big Hill, the river looks like a small shimmering ribbon far beneath the highway.  As you look west, you will see where the Rio Grande disappears at the exit of Colorado Canyon.
7:45 AM:  Check in at our office in Terlingua.  Wear shoes and clothes that you do not mind getting wet.  In warmer weather you will need sunglasses, a hat, sunscreen, a bathing suit or cutoffs, a lightweight long-sleeved shirt for sun protection, and sneakers or river sandals.  We provide waterproof boxes for your cameras.  You will not need watches, jewelry, or money on the river, so please lock these up before you check in.
8:00 AM:  Your guide will meet you at our office and take you to the river access point to load and board rafts for the trip.  We will arrive at Rancherias Rapid a few minutes later, and your adventure into the canyon begins.  The volcanic formations of Colorado Canyon include dark, welded rhyolite tuffs and occasional basalts which have been worn smooth by the relentless passage of the Rio Grande.  The canyon stretches in front of us for the next 6 miles and has walls sometimes as high as 800 feet.  There are numerous narrow side canyons for hiking and exploring, time permitting. 

There are more rapids in the first few miles of Colorado Canyon than in any other section of the Rio Grande.  These are not large, dangerous rapids, but are fun; splashy areas that make this trip a favorite among children and youngsters of all ages.  You may choose to float along in the river beside the raft or possibly take a swim in a tinaja (a spring-fed natural rock pool) that will offer a cool, refreshing break on a hot summer day.
Mid-day:  Around noon your guide will serve you a "deli style" lunch.  While your guide is setting up lunch, you may want to take a short walk to explore the area and study the many varieties of cactus and native plants.  Red-tailed hawks are often seen or heard screaming high above the canyon walls.  Look for numerous turtles sunning themselves on rocks at the river's edge.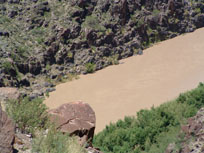 After exiting Colorado Canyon, we will travel through another fun rapid-Panther Rapid.  As you look downstream from Panther, the Big Hill and Dark Canyon loom in the distance.  Dark Canyon is a short, narrow canyon with sheer walls towering hundreds of feet above you.  Your adventure will end downstream from Dark Canyon at either Madera Canyon or Grassy Banks, depending on the river level.  We will drive you in our shuttle vehicle back to our office in Terlingua, arriving in the early afternoon to allow you plenty of time for dinner and a relaxing evening.
PRICE: For prices see our price list.
Click here for a two day Colorado Canyon itinerary.
Note:    Your trip fee includes guides, boats, life vests, lunch, drinking water, shuttles to and from the river, and all miscellaneous river gear.  You are welcome to bring sodas, beer, or other canned beverages in a small cooler. 
Day Trips:
On all one day trips lunch is served with selections of deli meats, chips and dips, crackers and cookies, fruit, etc. For those who have special dietary needs, preferences, etc. arrangements can be offered to accommodate you. We provide a small waterproof bag to keep personal items including cameras, video cameras, etc.

If you enjoy your trip, gratuities for your guide are always appreciated.