Canoeing Santa Elena
This itinerary is intended as an example only. Your trip may vary somewhat depending on weather and river conditions, your guide and your group's interests. Itineraries may be subject to change, please call our office for additional information.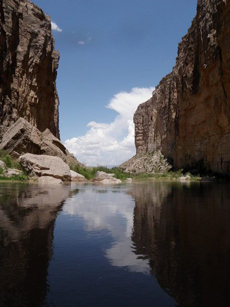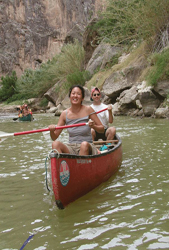 This trip is only offered during low water.  The put in point is at the exit of Santa Elena Canyon.  No experience is necessary but paddling is mandatory.  The ability to assist in carrying canoes and gear is very helpful, and a spirit of adventure is a must. If you have never paddled before, your guide will explain the strokes to you before the trip.

7:45 AM:    Check in at our office on Hwy 170 in Terlingua and meet your guide for the day.   Please wear shoes and clothes that you do not mind getting wet or muddy, and bring a personal canteen or water bottle to carry with you in your canoe.  You will also need sunglasses, sunscreen and a hat!  We can provide dry bags for cameras.
8:00 AM:    You'll load up in our van for the hour long ride on Ross Maxwell Scenic drive to the end of Santa Elena Canyon which is the put in for this trip.
Once at the put in, with two people per canoe (or three if you have a small child), you'll be paddling upstream into Santa Elena Canyon where the walls reach skyward 1500 feet.  Depending on water levels there may be areas where you'll need to walk your canoe for a short distance due to sand bars or strong currents.

NOON:         Once in the heart of the canyon, you will have some time to explore while your guide prepares a full deli style lunch for you to enjoy. The return trip downstream to your starting point is more leisurely as you go with the flow and enjoy the spectacular beauty of the canyon walls and the songs of the canyon wren. After loading gear and canoes we head back to our office thus ends your adventure for the day.
PRICE: For prices see our price list.

Note:  Your trip fee includes guides, boats, PFD's (personal flotation device), lunch, drinking water, shuttles to and from the river, and all miscellaneous river gear.  You are welcome to bring sodas, beer, or other canned beverages in a small cooler. 
Day Trips:
On all one day trips lunch is served with selections of deli meats, chips and dips, crackers and cookies, fruit, etc. For those who have special dietary needs, preferences, etc. arrangements can be offered to accommodate you.
If you enjoy your trip, gratuities for your guide are always appreciated.