Santa Elena Canyon One Day
This itinerary is intended as an example only. Your trip may vary somewhat depending on weather and river conditions, your guide and your group's interests. Itineraries may be subject to change, please call our office for additional information.
The Santa Elena Canyon one-day trip offers spectacular scenery with each bend in the Rio Grande.  Santa Elena Canyon is known for the famous Rock Slide Rapid, as well as its sheer limestone walls.  Beginning at Lajitas, this 21-mile trip is the most popular run on the river.  As the river meanders toward the canyon entrance, you will see high mesas and beautiful side canyons that have abundant cactus and Chihuahuan Desert vegetation.  During your trip, you may see endangered peregrine falcons or wild burros in Mexico.  Nothing can rival floating through this narrow canyon beneath walls that tower 1,500 feet overhead.
7:45 AM:  Check in at our office on Hwy 170 in Terlingua and meet your guide.  Please wear shoes and clothes that you do not mind getting wet and muddy.  In warmer weather, you will need sunglasses, a hat, sunscreen, a bathing suit or cutoffs, a lightweight long-sleeved shirt for sun protection, and sneakers or river sandals.  We provide waterproof bags for your cameras.  You will not need watches, jewelry, or money on the river, so please lock these up before you check in.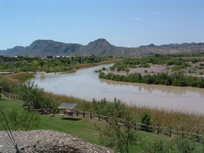 8:00 AM:  Your guide will meet you at our office and take you to Lajitas Crossing to load and board rafts for the trip.  From there you can catch a glimpse of rural life in Mexico by looking across the river to the village of Paso Lajitas.  As you float on this section of river, you will pass Native American grinding stones, and a candellia wax processing camp which can be seen from the river.  The rapids ahead will be Class I-III, depending on the river level.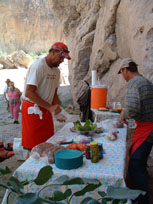 Mid-day:  Around noon your guide will serve you a "deli style" lunch near the entrance of the canyon.  While your guide is setting up lunch, you may want to take a short walk to explore the area and study the many varieties of cactus and native plants.  Following lunch, you will float into Santa Elena Canyon and enter an entirely new world. The pace picks up as you approach the Rock Slide, which can be a Class IV rapid created centuries ago when a portion of the cliffs overhead collapsed and choked the river with house-sized boulders.  Early explorers wrote about a painful portage around this rapid, which they considered impossible to navigate.  Their camp, just beyond the Rock Slide, is named Camp Misery.  Today, thanks to advanced boat design and our highly professional guides, you will experience only excitement and fun!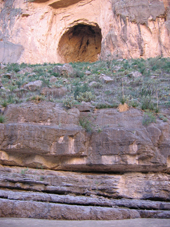 Afternoon highlights takes on a dreamlike quality as you float quietly through the last few miles, passing the impressive Smuggler's Cave on the way to the mouth of the canyon.  As you look back, you will see the canyon walls reach their full 1,500-foot height.
4:30 PM:  Soon after exiting the Canyon, you'll be met by our shuttle vehicle for the scenic 45-mile return trip to our office through Big Bend National Park, passing Castolon, with its colorful volcanic tuff formations.  You'll arrive back in time for a relaxing evening.
PRICE: For prices see our price list.
Note:  Your trip fee includes guides, boats, life vests, lunch, drinking water, shuttles to and from the river, and all miscellaneous river gear.  You are welcome to bring sodas, beer, or other canned beverages in a small cooler. 
Day Trips:
On all one day trips lunch is served with selections of deli meats, chips and dips, crackers and cookies, fruit, etc. For those who have special dietary needs, preferences, etc. arrangements can be offered to accommodate you. We provide a small waterproof bag to keep personal items including cameras, video cameras, etc.
If you enjoy your trip, gratuities for your guide are always appreciated.
Watch this video!
Watch Santa Elena High Water video!